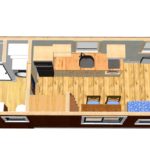 I've been interested in the tiny house movement for many years. I love the creative freedom and expression these homes on wheels have. The ability to take your home with you on the open road is exhilarating: Easy Rider meets the Painted Ladies.
After years of sitting by the sidelines I finally had the chance to make this dream a reality. It's now or never. I find a local builder who has an interest in THOWs. I design a few and finally come up with a shed roof design. This means that one side is taller than the other allowing more headroom in the sleeping loft. Celestial windows can be placed near the roof to bring in the sunlight without compromising wall space.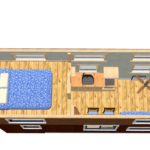 Coming from New England I am used to cold snowy winters with sun: I'm a hardy New Englander and proud of it. Yet I wasn't prepared for the Montana winters which are long and grey. Many people, who have relocated here share my predicament. We move here for the natural beauty, outdoor recreation, and a calmer way of life.
To counteract this, my tiny home needs to be light and airy. By adding 12 windows, plus a 3 foot wide exterior glass door and various ceiling heights create a sense of space. The Architect Frank Lloyd Wright was known for this. When walking into the home high ceilings bring your eyes up. The ceiling over the bathroom, however, is lower due to the loft above, which creates a cozy feel.
Wood doesn't have to be dark. It's the stains and paint which create the mood. The interior is all wood, yet by using various types and colors the feel is light and airy.  The floors are pine and spruce with a clear Eco-friendly coating, while the blue pine ceiling has a blue wash. The walls in the bathroom will be bead board or horizontal pine painted a calming color. The main walls will be plywood with batten and moldings. The color will be an off white. The cabinets are a natural maple.
To achieve this balance, colors, textures, and materials play an important role. Dark colors absorb sunlight making the space feel small, while light colors allow the sunlight to bounce off creating a feeling of space. I choose the latter.