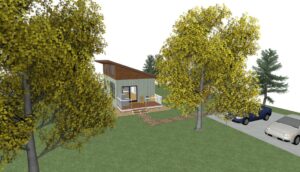 The Process:
True South Designs will be working with you every step of the way.  We help with the initial planning and design, preparing for construction, professional installation, and everything else through to the final touches which turn your house into a home.
Step 1: Initial phone conversation:
We invite you to call us at 603.716.6885 to discuss your project. We can help answer your questions about the materials, prices, sources, timelines, and our process to assist you with your planning. We will also discuss your budget and how you will finance it. If we both agree that this sounds like a good fit, we'll move onto the next stage.
Step 2: Initial home/property consultation: $250
After our phone conversation, we will set up a time for Maria to visit your home or the building site. This is where we discuss what you like and don't like as we look at the spaces or the lay of the land, what you envision, timing, and expectations. She will take pictures so she has a better understanding of the project. She will also look at the structure, electrical, plumbing, and other areas to make sure they are adequate for the remodel. If it's new construction she will study where True South is and how it relates to the siting of the house. Items we will want to discuss may include:
Confirm you have already reviewed our process for how we do business and answer any questions
What do you expect of the designer, contractor, including the process, quality of workmanship, and quality of materials
The reasons and or purposes for considering your remodeling/new construction project
Your desired timeframe, including start and completion dates
The project and product style and/or design you are looking for and how it relates to the budget
How and when you plan to make project-related decisions
How you define and will measure a successful project
Step 3: Scope of work letter aka Design Contract:
Maria creates a Scope of work letter detailing what you are looking for (your wishlist) a time design outline and a design which fits into your budget. This is based on her years of experience and similar projects. The design stage takes anywhere from 4-8 weeks depending on the size and details of the project. We can either meet in person (taking in the precautions for COVID-19) and or email/FaceTime. The total design fee is broken down and paid at the end of each of the 5 meetings. The contract includes the following:
Meetings 1 & 2:  Firming up the design/layout using Chief Architect a CAD program for the designs. *Up to 3 conceptual designs. Once we have a firm design, our team of contractors comes in and gives us a labor quote (this is not an estimate but a quote)
Meeting 3: Go to various showrooms to pick out the finished products which are within the budget.
Meeting 4: Finalize the design layout and finished products
Meeting 5: 3 sets of Working Drawings: 1 for you, 1 for the contractor, and 1 for the building inspector. This can also be emailed.
*Anything over 3 conceptual designs is $75/hour.
Kitchen Design: $1,500
Master Bathroom Design: $1,000
Other rooms: $500/room
Bundle: Fee-based on project size:
Additions/New Homes/Accessory units: Working Drawings fee (see below):
Percentage 2.5% of the opinion of cost or
Flat Fee: Minimum: $7,500 depends on the size of the project and the details or
Hourly Rate: $75/hr
Consultation: $75/hr
If everything is satisfactory the design contract is signed and the design process begins. We will set up a time to come in and measure before the first meeting.
Step 4: Construction Contracts:
If you plan on using True South Designs as a Design/Build in New Hampshire, then Construction contracts are signed and deposits are paid for. This locks in the contractors for the project. Maria is the Project Manager/Coordinator.  Permits will be acquired at this stage.
We have an organized process for completing the renovations of your home. As part of this process, there will be several meetings in which you will need to attend and participate in.  These will be scheduled in advance so all can be present, involved, and remain informed throughout the process.
After agreeing to move forward with your project we will go to work getting your project ready for construction.  We call this pre-construction phase. Once the construction contracts are signed and deposits are paid then we can lock in the contractors for the start dates.
Step 5: Product Ordering Stage:
After the Finished product contracts are signed and paid for, we will start ordering products that have extended lead time such as cabinets, plumbing fixtures, appliances, tile, etc. This helps keep to the budget and schedule. There will be fewer if any product substitution challenges and any product delivery delays can be addressed well in advance of when they will actually be needed.
STEP 6: Pre-Construction Meeting:
We will get together with you at your home to discuss the schedule.  We will review the scope of work as well as other important details including:
Working hours
Dumpster, and equipment locations
Product staging areas
Parking
Project schedule and payments.                                                                                                                                Access to the home, maintaining security                                                                                                                    Pets: Where will pets be during construction.
Personal items must be removed from the areas to be remodeled. Logistics of where you will store them-renting a container or putting them in another area of the house will be addressed.                                                                   Any additional information and or concerns you have
Step 7: Construction
We will begin your project working with our team of fully licensed and insured construction professionals with whom we have good relationships. The project manager will keep you informed of when we will be there and keep you up to date with the progress of your project, as well as when progress payments are due.
If for any reason you request or require any changes or additional work, we will prepare a written change order for your review and acceptance prior to the changes or work being performed.
To help you understand the construction process and sequence, our construction agreements are written describing the work to be completed in the same order we anticipate completing your project.  Using the agreement, you can follow and anticipate the construction process as your renovation project unfolds.
Step 8: Completion
When the project is near completion we will create a punch list and go over everything to make sure it's to your satisfaction and have you sign off on the form. When the project is 100% completed, we will remove the dumpster and our equipment. All money due will be paid. We strive for perfection and hope that you will refer us to others. If you believe we did a fantastic job we ask that you write a review for us. We look forward to serving you in the future.