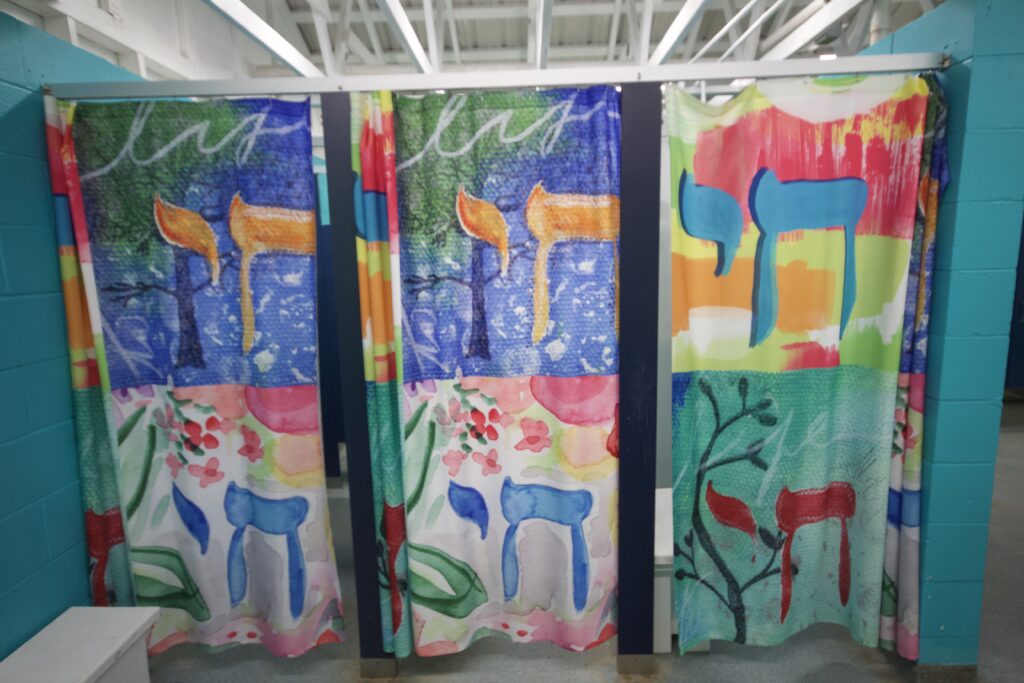 I was contacted by a Jewish children's camp to help them transform their girls bathhouse. The colors were drab green and cream. It needed a new life. I suggested fun colors of turquoise blue and lime green on the walls, navy blue on the toilet stalls, a white quartz sink counter-top and Jewish artwork created by the children.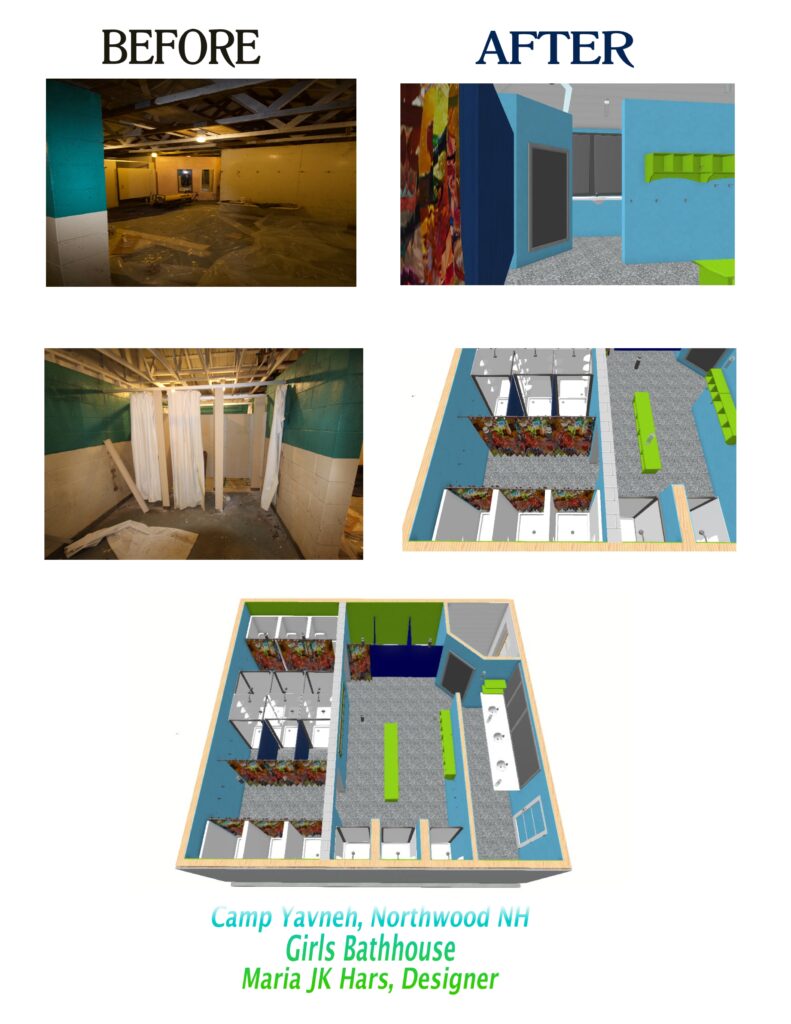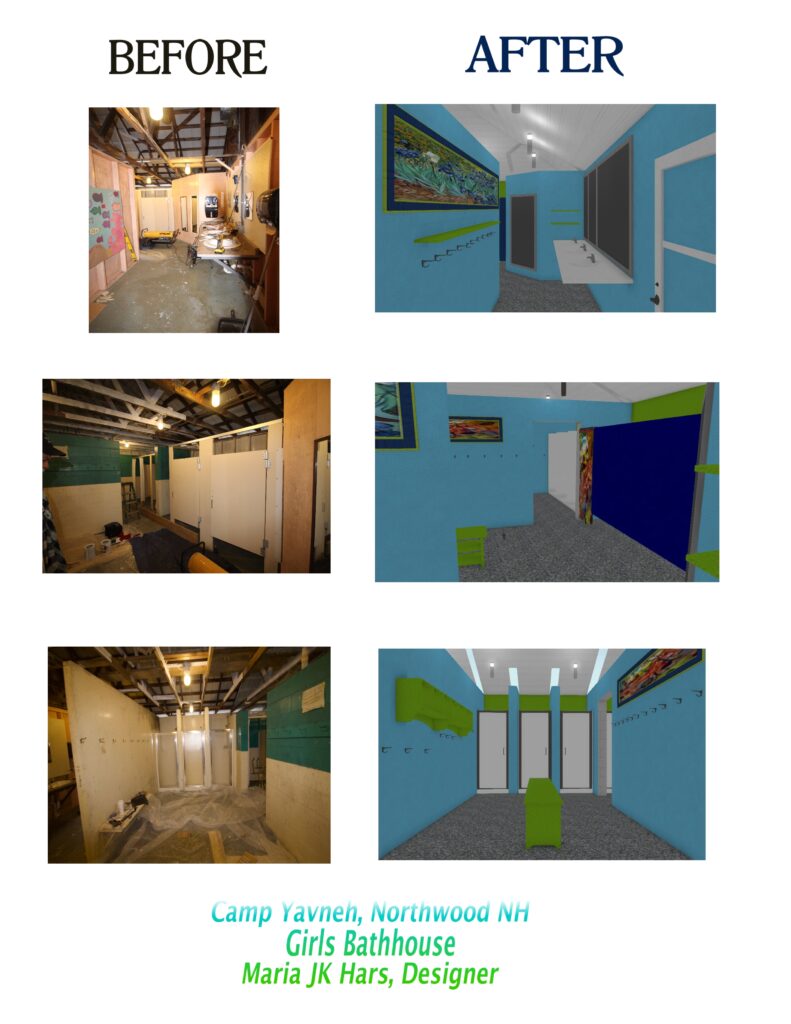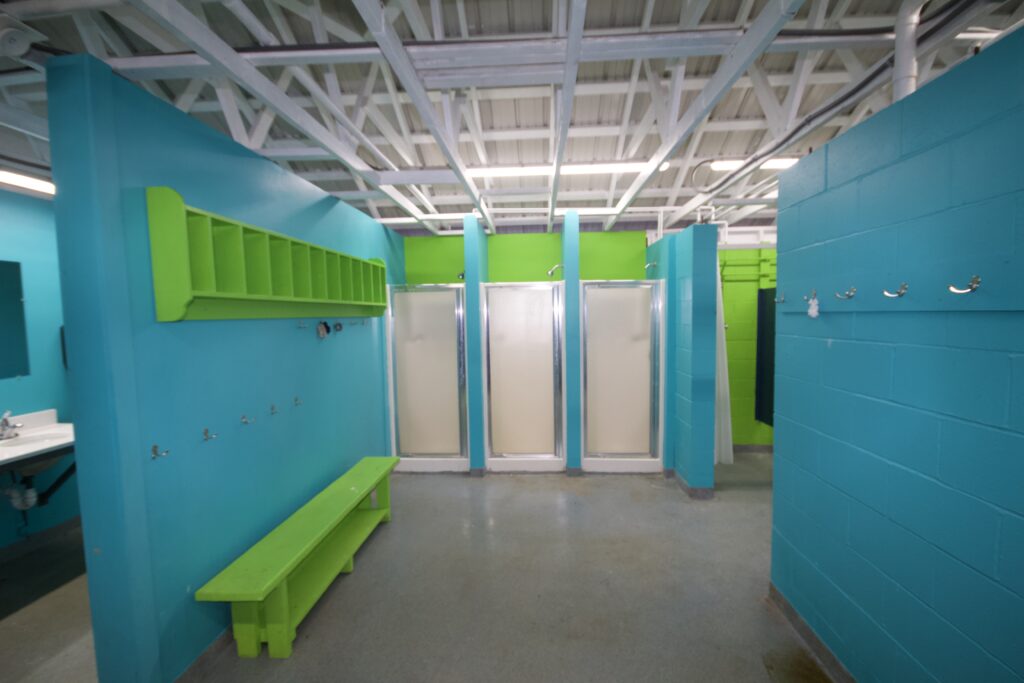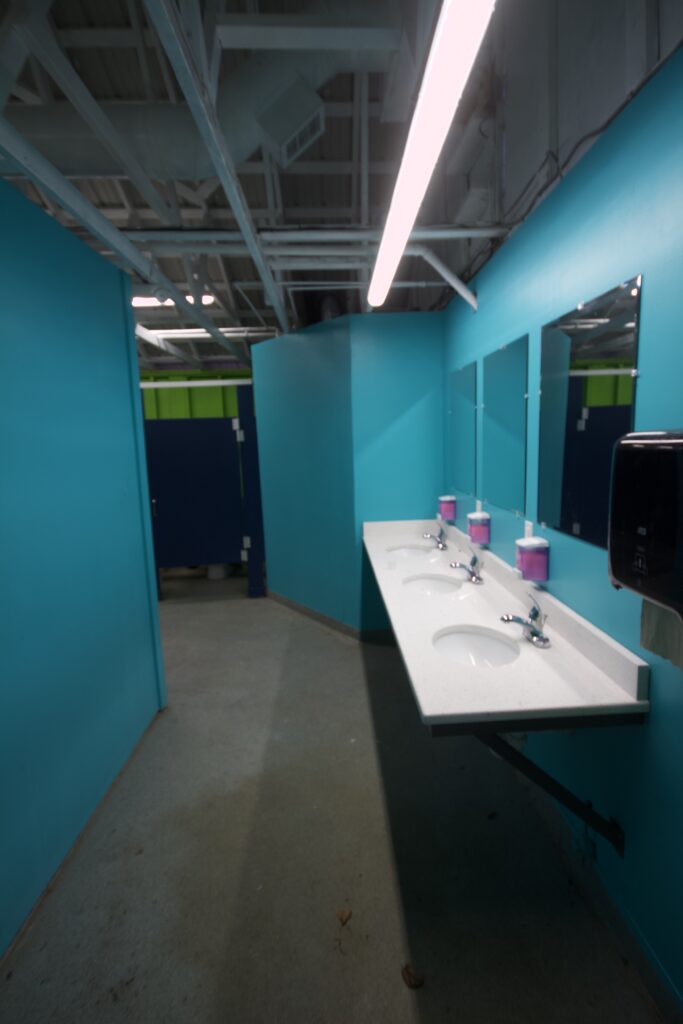 My suggestions: Paint the existing plastic dividers with paint that adheres to plastic. if possible to be either white or navy. It would freshen it up.
The following is how I envision the girl's bathhouse. I would like to bring it to life by introducing fun vibrant colors. The paint colors I've chosen are a vibrant green called Hearty Hosta by Clark + Kensington and Art Deco Dreams also by Clark + Kensington).  I recommend a high gloss durable paint that can be applied to both cement and drywall.
Bearing walls painted: Hearty Hosta (see pictures)
Nonbearing walls painted: Art Deco Dreams (see pictures)Shelving and benches: Hearty Hosta (see pictures)
Ceiling/trusses painted a high gloss white: such as White Heron by Benjamin Moore (see pictures)
These colors represent water and land the colors of Earth, representing life. The colors create an inviting bathhouse for girls of all ages.
The dividers painted navy blue or white, both colors complement the wall colors.
Entrance Door: painted high gloss Art Deco Dreams with a plaque painted navy blue words נשים (WOMEN) painted white on the door.
Murals: various hues of blues, greens, yellows, whites, and pinks.
ברוך הבא (WELCOME) colorful Mural with the saying welcome in Hebrew, a 6′ x 6″ shelf painted hearty hosta with 10 chrome hooks at 48″ from the floor.
לחיים (TO LIFE) 3'x4′ mural on the wall left of the entrance door when entering.
  לחיות לצחוק לאהוב  (Live Laugh Love) on the cinderblock wall facing towards the open dressing area. hooks (plaque painted hearty hosta) hooks to be chrome or brush nickel.
The 2×4 wooden wall will have shelves/cubbies, painted Hearty Hosta and hooks below for hanging towels, clothing, etc.
The back walls should have hooks set between 36″-48″ from the floor. For fun the children's fish/sea life plaques could be glued to the wall to create rich underwater sealife (similar to the fish gate below).
The dividers between the showers should have 2 hooks one at 42″ and one at 60″ above the floor (for both small and tall children).
Private changing stalls: Instead of having doors to the private changing stalls, shower curtains are a better alternative. It's easier to maneuver and take up less room. I chose a fun vibrant artistic curtain by Linda Woods. Chai is an important Jewish word meaning life.
This was a fun project to work on. The use of colors creates moods and emotions without costing a fortune. The girl's bathhouse is now a place where children can enjoy themselves while getting ready.