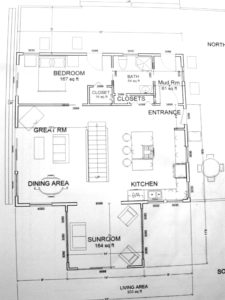 As a child my favorite toys were building blocks. I played for hours creating cool buildings, well at least in my mind they were cool. Growing up in an Architects home helped lay the foundation for my life's passion of helping others turn houses into homes. It's been a long road but an interesting journey of self discovery.
Everything we do has been a first. We take chances sometimes we fail, sometimes we succeed but we learn from our experiences. During the Recession of 1988 I became a Realtor. I remember showing houses to people and could not understand how they could afford these houses. Interest rates were in the double digits and new homes were $400,000 plus. In order for me to understand, I went into banking and received my Paralegal Certificate in Real Estate. In 1991 I worked as a Foreclosure Representative under the RTC and learned first hand what happened in the real estate crash: Greed was the culprit.
From there I worked as a Loan Closer and Loan Officer for different mortgage companies. It was an eye opening experience which I'm grateful for. In 1994 after 5 years in banking I jumped back into real estate working for a buyer's agency which was in its infancy. At that time it was unheard of to have fiduciary responsibility to the Buyer. Seller Agents were weary of the idea and refused to work with buyer's agents. But we persevered through educating the Seller's agents, letting them know they were off the hook when it came to the Buyer. We took the responsibility off them.
I'm proud that I was part of the movement to create a fair playing field in real estate. Being  the underdog can have its heartache but it also has its rewards. Sub Agency is a thing of the past, now both parties have representation. I was a Realtor for a number of years working for both sellers and buyers, but design was always my passion.
For years I also took care of the grounds of my father's contemporary home. Gardening has always been therapeutic. To be outside enjoying nature, what more could one ask for? The summer of 2000 I started a side business called Creative Gardening where I designed & created flower-scapes (my term for landscapes using flowering plants/shrubs/trees). It was hard physical work but it was rewarding. I only did it for one summer but it was something I wanted to do.   I continued working as a Realtor but more than anything I wanted to design. In 2003 I went back to school for Interior Design, working during the day and going to school at night. It took me five years but I did earned my degree.
In 2004, I had my first full time design job working as a Kitchen & Bath designer. It was an eye opening experience helping people create beautiful and functional kitchens. I also worked as a closet designer for another firm helping people create storage solutions. I had freedom to design and I loved it. I learned a lot not only how to design properly but to be a hands on designer in the field. The most important lesson I learned: Measure three times rather than once which will save a lot of headaches. The dam opened up and the creativity exploded. I was in my element.
I loved designing but I wasn't satisfied just being a kitchen bath designer or a closet designer, I wanted to help people with other areas of their homes and use vendors and products I believed in. Even though I only had two years of full time design experience working for others, I had the desire to try and the willingness to fail. In 2006, I left a full time kitchen design position and went off on my own. It was scary I must admit but something inside me pushed me over the edge to freedom and I have never looked back.
One of my first achievements on my own was helping a family redesign a master bathroom, master closet and laundry room. It was a huge feat, since, I never did this before but I didn't let that stop me. The fear pushed me to succeed. I remember drawing to scale the 6″ tile and counting how many I actually needed for the shower. I used materials I never used before such as glass block. I talked to vendors and they educated me. My thirst for knowledge was insatiable which helped me be a better designer.
The master bath was dated with pink and forest green tile, the large center jacuzzi tub was used for the plants since the only window faced south. The original laundry room was 5'x5′ with a metal shelf. The master closet had wire shelving and clothes were falling over. By listening to my clients wants and needs we worked together to create a space which they could use for many years to come.
By creating a bump out into the Master bath I incorporated a stacked washer/dryer unit. On the right side I designed a folding countertop which housed a laundry sink and room for hampers underneath. Above there was a wall cabinet and a rod for hanging clothes. Space doesn't always have to be huge it just has to be functional.
To this day I'm still proud of my first large scale remodel. Yes, there were bumps in the road but I saw it through and in the end the clients loved it. I have had the privilege of working with many great homeowners, tradespeople and vendors. Each project has been unique. It's an awesome feeling to know that even after ten years they still love the design and functionality of their space.
One of my greatest achievements is my tiny home on wheels. I've always thought it was an interesting concept. On my 6 month solo road trip around the USA a few years ago I had the opportunity to stay in a tiny home on wheels. There were things I liked about it but many things I would have changed.
After moving to NW Montana I found a builder who shared my interest in tiny homes. I came up with the shed roof style tiny home and he built it. I was in charge of buying all the materials and working with the vendors. I also stained and painted both the interior and exterior. I love working in the field because it makes me a knowledgeable designer.  I designed, built and finished the 2 tier wood vanity, folding wood table and modular window seats which can be a single bed.  Thank goodness for 7th & 8th grade Industrial Art classes where we learned to make and finish wood furniture.
Being able to have these first time experiences are part of learning and growing as a person and a designer. I could have stood by the sidelines and took the safe route but I didn't want to be on my death bed regretting my life. Taking chances is scary but one will never know if one doesn't try. The opportunity to work in a field which after many years I'm still passionate about is my greatest love. Other projects I would love to be part of are: flipping homes, helping buyers and sellers with their homes, designing & building affordable sustainable homes. I also look forward to working with people to create homes which work for them now and for years to come.